Gearing up for summer style means fun florals, bright colors, and less layers. As a geek, I'm always on the hunt for fun pieces to pair with my fandom tees. My geek chic outfits for summer consist of fun shorts, lightweight pants, and flirty skirts I can mix and match. Each piece is usually interchangeable with others, so I get the most out of it. My closet consists of many fandom graphic tees. I have my NVC Tees, designs from Jordandene, Created by Nerds, and a TON of Star Wars tops. I try to find pieces to highlight and accent them. I always ask myself, what tee would look great with this bottom? I always wear one of my tees while shopping too so I can get a visual on what it will look like.
One of my ideal days is grabbing iced coffee and heading to a mall. I enjoy shopping by myself. I can map out what stores I want to go to and take time to go through the racks without stress. That's what I love about shopping- the hunt for the perfect pieces at great deals. If that's not your ideal day, don't stress – you can shop online! When you identify what you want or need, you can easily search keywords like "pink pleated skirt" or "white blazer", and be directed to what you need. Most sites have a search engine to help direct you to the pieces they have without scrolling through endless items. Pinterest is great because you can see outfits and just click on the photo and have it direct you to each piece. Shopping has become so easy in this age! Before you start shopping, I highly recommend going through your closet. Take time to get rid of pieces that don't inspire you and cultivate your ideal style.

How to Recycle and Style Your Wardrobe 
Always take time to edit your wardrobe before purchasing new pieces. See what still fits, what styles you are still into, and get rid of pieces that don't fit with the style you envision. Personally, I like to search through Pinterest or Google trends so I can get a mood or identity I want to have for that season. I'll see what I have, get rid of pieces that don't fit that vision, then make a list of certain pieces I want or create an inspiration board on Pinterest of styles that fit that idea. Check out my pinterest board.
If you are a reader, one book on style I love is Style by Lauren Conrad. It has helpful best practices for editing your closet and shopping. For example, when editing your closet, Lauren suggest putting items you are hesitant to get rid of in a bag. This way you'll know after about 6 months if you will actually wear them or not. If you forget about them, most likely it's time to toss them. A great tip when shopping is to put the pieces you found on hold and continue shopping. If you really want the pieces, you'll go back and get them. If not, you most likely didn't want them.
Shop the book –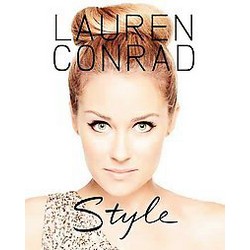 When putting an outfit together, keep in mind the color and pattern balance, even when mixing and matching patterns. Unless you are strong with mixing and matching patterns, I suggest sticking with basics and one statement piece. The statement piece can be anything – that bright fun floral skirt you love, a hot pink blazer to layer with, gold colored shoes, or a crazy fun fandom bag from Loungefly. Let's dive into key pieces for your wardrobe arsenal.
Geek Chic Outfits for Summer with Shorts 
Shorts are key to any geek chic outfit for summer with so many cute silhouettes for any style. I love bermuda style when I want something more fashionable, and cut offs for the extremely hot days. Many brands have suit shorts to match blazers for a professional look.  When shopping, try on different styles to get a sense of the style that looks best on you, and what makes you feel great!
Basic Neutral Shorts 
For this first outfit, I paired my Captain Marvel Jordandene top with some basic shorts, the paired a floral blazer that had similar colors for a layering piece. The blazer is lightweight enough, so I don't become overheated. For shoes, I went with yellow flats that are the same color as the art to pull the whole outfit together. You can see I am not too "matchy-matchy", but I am consistent with the color scheme.
The Bold Stripe
I love bold striped pieces! The saying goes horizontal lines make you look wider, and vertical lines make you look longer. Personally, I don't think it's necessarily the lines as it is the piece you are wearing. I feel wider in a vertical tented dress than I do in a horizontal top. Sometimes, the width of the stripe is too chunky and makes me feel wider than I am. It's all about the piece you have, and how you style it. For instance, these shorts from Forever 21 are smaller stripes that alternate colors. The short is also high wasted, so it helps lengthen my torso. They pair perfect with cute booties for an edgier look. I balanced the bright colors on the shorts with a black top and white booties. Since both the shirt and booties are black and white, they help make the look cohesive. The shorts have white stripes in the print so that color flows throughout the whole outfit.
Geek Chic Outfits for Summer with Skirts
It's no secret, I am obsessed with fun skirts, especially this year. I have been able to find some bold prints that go so well with my favorite tees. Most of my graphics tees end up being black, since I'm naturally dawn to that color on clothes. Black is a universal color that looks great on almost everyone. So of course, I like to have bottoms besides jeans or black slacks to make my outfit more magical. Since most of my tops are black, I make sure when adding skirts that they will look good with those black tees so I can mix and match. 

Animal Prints Are Back
Cheetah/Leopard print is a great print because the colors are neutral colors. You can pair it with almost any other color. I have been seeing this print on a skirt allover Pinterest, so of course when I finally found one, I was thrilled. Since this is a bold print, I prefer to keep my tops and shoes more basic. This whole look is a very 90's vibe with the rounded classes, tee, and wedge shoes. 

Floral Prints Are A Summer Staple 
Floral prints will never go away, and I love that! It makes it easier to find a good solid piece you love, and recycle it year after year with a change of top or accessories that give the skirt new life. This skirt I'm wearing I've had for 3 years, and it still looks great and the style is relevant. For me. Florals make any outfit more feminine and magical. The tank I'm wearing is a new design from Created by Nerds. The quote is from Tolkien and says, "It simply isn't an adventure if there aren't any dragons". Pairing it with this skirt gives me mythical and magical vibes. 

Geek Chic Outfits for Summer with Pants 
When one thinks summer fashion, pants aren't typically on the top of the list. Living in Vegas, it's nearly impossible to wear pants during the summer because it gets so hot. Nine times out of ten I'm in shorts and lightweight tops or a short summer dress or skirt. Ladies let's admit it, we don't always get time to shave our legs, and shorts are typically frowned upon at work. There are options for climates that aren't as hot, or for the times we can't show off our legs. I suggest a lightweight cotton pant or a poly-spandex pant that is flowy. That way you can be comfortable. 
Lightweight Cotton Pants
This outfit I went with a cotton pant from HM. Pants like these are inexpensive, and more on the disposable fast fashion side. I will purchase different patterns and maybe one black pair and wear them for one or two years. You can always repurpose the fabric into shorts or other things, or donate to Goodwill, Savers, or other secondhand stores to stay ecofriendly. My favorite place in Vegas is Plato's Closet, because they will pay for clothes they can resell, so I know it will be reused. If it's in worse condition, I donate to Goodwill trucks.
Back to this outfit, I initially purchased it to go with a different outfit, but when I got home, I was able to pair the colors with his Captain Marvel tank from Target. That's what I want to drive home – find mix and match pieces! The red, white, and blue will go with so much! Hotter day I can wear flip flops and a basic white tank, and still look chic. 

Flowy Straight Leg Pants 
These black flowy straight leg pants I found at Express a year ago. They are light weight, and don't stick to me. What I love is how comfortable they are, and the look is chic. I have a basic tee paired with them here, and the outfit still looks professional. Throw on a black blazer for work, and you have a great power suit look. The black pants are something I can switch with pretty much any top, and create a summer chic look.
Shopping & Style Tips
Tip #1: Mix Staple and Trendy Pieces 
If you noticed, I didn't focus on year specific trends for silhouettes or colors. Fashion always repeats itself, so make sure you buy a mix of staple pieces and trendy pieces to balance your wardrobe. You don't have to always be on top of every trend to look chic. What is important is that you are comfortable and love your individual style. You might not like the way shorts look on you, but when it comes to skirts, you make each work for you in a way no one else can do.
Tip #2: Buy Only What Makes You Feel Good Inside
Take time to search through racks for special pieces that will make you feel empowered. If you are like me, wear one of your favorite geeky pieces and try on pieces with that tee so you can get a sense of what it can look like. While considering a piece, ask yourself, how does this make me feel? Whether it's a basic piece or a print, get pieces that inspire you and make you feel confident.
Tip #3: Bring Inspiration 
If you don't like shopping, or feel like you don't know where to start, reach out to a friend with style that you like, or find a good personal shopper who can help you navigate your true style. Technology is amazing – you can take your inspiration board with you! Refer to your saved pins for a style guide when shopping.
I hope these pieces inspire you as you shop! Comment down below with styles are your favorite, or other tips that help you when styling an outfit!